BPA merchandise
We have a number of items for sale, or available for you to buy, or to sell at fundraising events.
We are happy to provide you with a merchandise pack and display box if you would like to sell merchandise for us, for example at a school fete. We ask for a deposit of £20 to obtain one of these kits as the merchandise within it will be valued at around £150. You can then sell the merchandise at your event on a sale or return basis, and send us the remaining merchandise and the proceeds (less your deposit) at the end.
Keyring torches: £2.00 each
4GB data sticks: £6.00 each
Power banks: £6.00 each
Propelling pencils: £2.00 each
Pens: £2.00 each
Wristbands – red general BPA bands (embossed): £2.00 each
Wristbands – purple EPP bands (embossed): £2.00 each
Pin badges: £2.00 each
Folding tote bags: £3.50 each
Sports quality runninng vests and cycle jerseys available on request.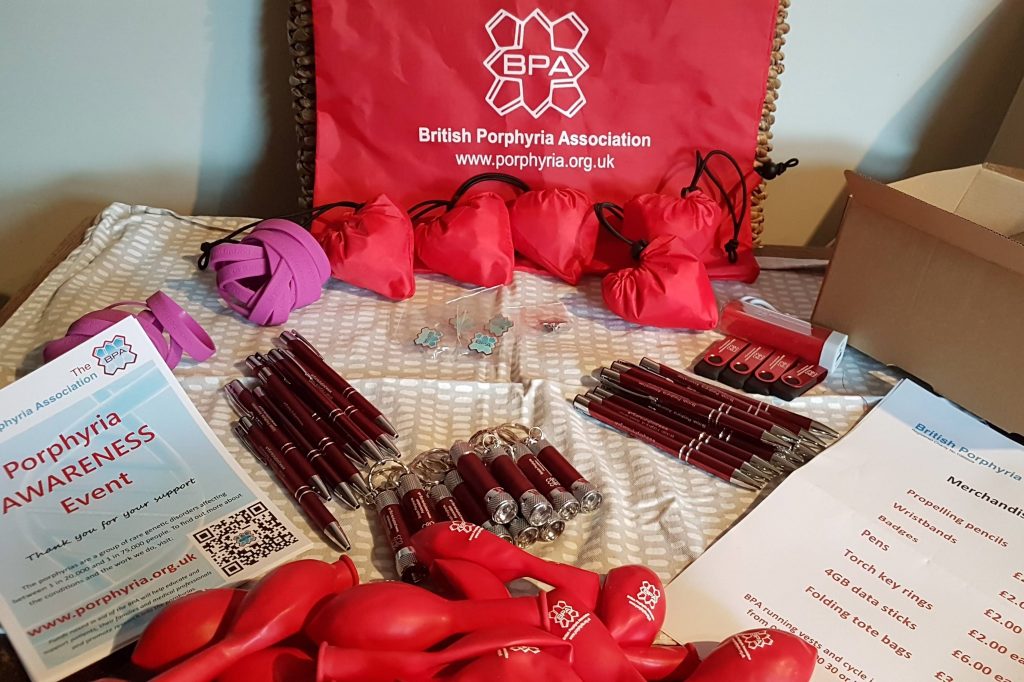 If you wish to purchase any items, please email treasurer@porphyria.org.uk for more details or send a cheque payable to the British Porphyria Association, along with details of your order to:
BPA Treasurer
Rothlea House, 7-8 Quarry Lane
Butterknowle
Bishop Auckland
DL13 5LL
If you are taking part in a fundraising event or require larger numbers, please contact us at: helpline@porphyria.org or on 0300 30 200 30.