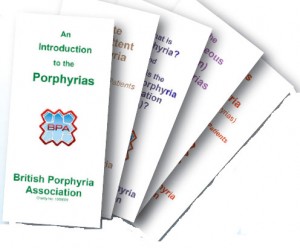 We have now produced six leaflets.
One is a general explanation of porphyria.  This would be suitable to give to doctors and hospital staff on the subject.
The second gives a quick introduction to porphyria, followed by information about the purpose of BPA
A third is on skin porphyrias, and a fourth on AIP.
We have a leaflet on the use of drugs with the acute porphyrias. This goes with a copy of the safe drugs list.
Our latest leaflet is on testing and inheritance with the porphyrias.
They can be downloaded / opened here:
Porphyria introduction
BPA introduction
Skin porphyrias
AIP
Testing and inheritance
Use of drugs
Safe drugs list