The BPA is continually involved in campaigning for change, both in the way the condition of porphyria is presented in the media and in keeping up to date with other significant developments, a few of which have been detailed below.
Rare Disease Day: 28th February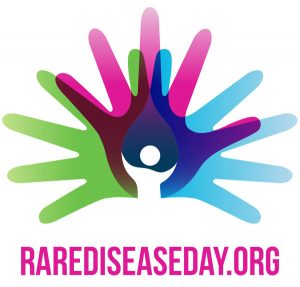 On 28 February 2018, the tenth edition of Rare Disease Day will see thousands of people from all over the world come together to advocate for greater patient involvement in research on rare diseases.
It is estimated that there are over 6,000 rare diseases affecting 3.5 million people in the UK at some point in their lives (1 in 17 people).  Collectively, rare diseases are not rare!
In 2018, rare disease patients and families, patient organisations, politicians, carers, medical professionals, researchers and industry will come together to raise awareness of rare diseases through thousands of events all over the world.
Could you share your story to raise awareness? Sue Burrell (our BPA administrator and AIP patient) did just that with a TEDx talk at the University of East Anglia on Sat 24th February. Watch out for the video link appearing soon.
For more information visit www.rarediseaseday.org
Acute care in Scotland
The BPA was involved in a series of meetings during 2015 and 2016 to discuss access to acute porphyria services in Scotland, including issues concerning referrals, testing and onward care. Meetings were well attended by doctors from Scotland, NAPS doctors (from England and Wales), biochemists, geneticists, NHS Scotland commissioners and the BPA.
Following these discussions, NHS Scotland finalised arrangements to commission support for Scottish acute porphyria patients and their doctors from the English NAPS service, which came into operation as of 1 April 2016.
A formal agreement enables shared care between NAPS doctors (mainly Dr Mike Badminton from Cardiff) and either Dr Alison Cousins or Dr Peter Galloway from Scotland. Outreach clinics will be held once every six months in either Edinburgh or Glasgow. This means that patients in Scotland suffering attacks of an acute porphyria will benefit from the knowledge and best practices of NAPS, while still being seen through an effective network with local porphyria specialists. Doctors caring for hospitalised patients will be able to access the NAPS out-of-hours clinical advice service, which will ensure appropriate access to haem arginate treatment for patients in Scotland.
New patients will be seen within six weeks initially, although this may take the form of a virtual appointment or telephone consultation to establish what support is needed. Patients will then be offered an appointment for one of the scheduled outreach clinics.
The BPA receives regular updates and supports Genetic Alliance UK which is an umbrella charity of patient organisations with a membership of over 130 charities supporting all those affected by genetic disorders. Their aim is to improve the lives of people affected by genetic conditions by ensuring that high quality services and information are available to all who need them.
Genetic Alliance UK has also been very supportive of the BPA over the years and assisted us with aspects such as maintaining specialists within the acute care network and guiding us through the NICE process to obtain certain medicines on the NHS.
Better Access to Travel Insurance Forum
In 2010, the BPA supported the PNH Alliance campaign to improve access to travel insurance for people with rare conditions.
The BPA and their members helped in the distribution and completion of a survey, which formed the basis of PNH's report into the subject. The report includes an introduction and context to the travel insurance campaign, the ambitions of the campaign, the current government advice on travel insurance, the findings and recommendations from the patient experience survey and details on the establishment and remit of the Better Access to Insurance Forum.
The report is to be distributed amongst parliamentarians, stakeholders and policy makers and be the central point of discussion at an event in Westminster to engage political support for this campaign.