The British Porphyria Association (BPA) was established in 1999 by a group of patients and relatives who had experienced isolation and difficulties due to their diagnosis, and had found there to be a general lack of understanding and assistance available. The BPA became a registered charity in 2001 and is run by a committee of volunteers.
Website upgrade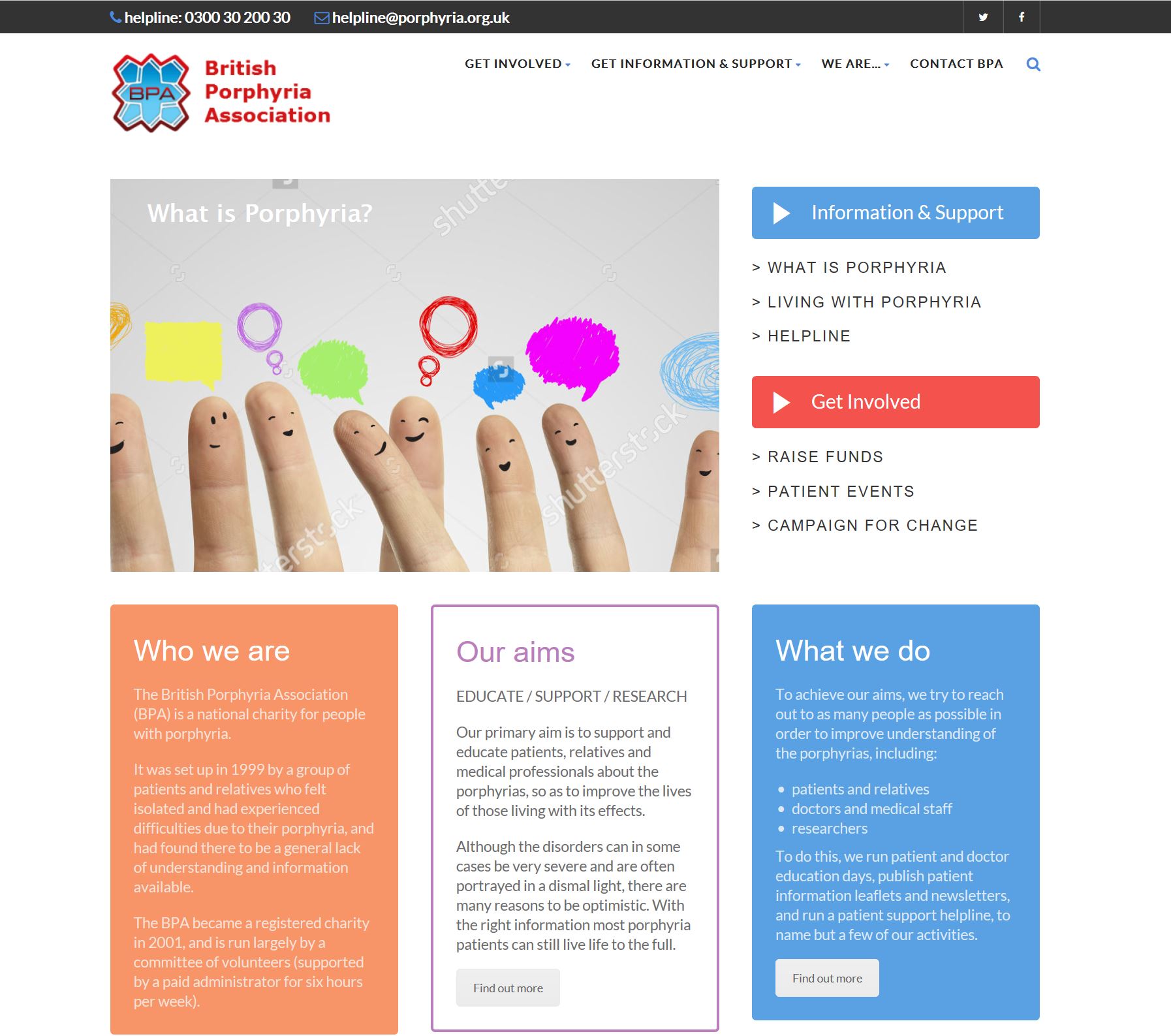 We're excited to be working on our newly refreshed website which will be live very soon!
Our current website was designed a number of years ago and is not very mobile friendly. In addition to being more responsive, the updated site will include changes to navigation. We've also made some small but significant changes to the structure and content. We'll be continuing to update the existing content, so keep coming back to see more changes as they happen.
Events
We usually have one or two open days / conferences a year.  At these, we have talks by medical experts in porphyria and by patients;  it is also a chance to meet and talk to other patients with porphyria. Our next one is our Autumn Conference and AGM, which will be held in Cardiff on 7th October 2017 with the support of Dr Mike Badminton and his team at the University Hospital of Wales at the Holiday Inn Cardiff, North M4, J32, CF15 7LH.  The programme is still to be confirmed, but if you and your family may be interested in attending, please let us know: helpline@porphyria.org.uk or 0300 30 200 30. Add the date to your diary now.
This year, there is also an International Porphyria Patient Meeting on 25th June 2017, which will be held in the beautiful city of Bordeaux, France. The French patient organisation is working very hard to develop an interesting conference for both the acute and cutaneous porphyrias. The whole day will be presented in English as well as French. Previous events (held every two years in different countries) have been excellent and extremely useful. There will be talks by porphyria experts and patients, and a chance to meet both from other countries. The day is free to attend, but advance booking/registration is compulsory. Please see https://icpp2017.org/registration-patient-day/. If you would like to go, please register as soon as possible..
What does the BPA aim to do?
The Association aims to reach out to as many people as possible in order to improve the understanding of this condition, including:
patients and relatives
doctors and medical staff
hospitals and research establishments
The porphyrias are a group of rare conditions and are often portrayed in a dismal light. Although the disorders can in some cases be very severe, there are many reasons to be optimistic and with the right information, many sufferers can live absolutely normal lives. Early diagnosis is vital if we are to improve the quality of life for those affected by it.
The BPA's primary aim is to improve understanding of the condition, raising awareness and ensuring that the portrayal is always accurate.
The BPA raises funds in order to educate patients and their families about their condition.
The BPA aims to provide an emotional support system for sufferers and their families and provides contacts with doctors and specialists.
The BPA aims to facilitate understanding for doctors and other healthcare professionals.
The BPA raises funding for new research into the field of porphyria and encourages new research projects.
Porphyria is pronounced similarly all over Europe, but the spelling varies considerably: porfiria, porfyrier, porfyria and porphiria.